Business Value Architecture

™
Thinktiv's BVA is the most holistic and impactful strategy program available to software-driven businesses and their investors.


Maximize revenue and valuation with product-centric strategy.
Partner with Thinktiv to build prioritized and actionable product and go-to-market (GTM) strategies for your company. Align your entire organization to growth-driving strategic investments.
We use the term 'orders of magnitude' when asked to describe the ROI of our Thinktiv strategy and go-to-market transformation engagements.
Steve Flagg |CEO, Supplyframe
Workstreams
Co-create high impact strategic initiatives.
Prioritize your business' product and GTM investments for maximum revenue and valuation outcomes.
Diagnostic research involves a comprehensive review of the client's business model, vision, product strategies, GTM strategies, processes, competition, pricing/packaging, and revenue health signals.

Thinktiv's diagnostic research includes management team discovery workshop and one-on-one discovery interviews with key team members.
Market Ecosystem Analysis
Market ecosystem research reveals market white space and specific differentiation opportunities for product & service offerings.

Thinkiv's Market Ecosystem & Positioning Assessment provides recommendations for claiming category leadership in target markets.
Voice of Customer Research
Voice of Customer (VOC) research uncovers and validates customer needs, pain points, and demand signals.

Thinktiv's VOC work includes both qualitative and quantitative methods to determine which products & services create the most value and/or have competitive risk factors.

VOC research also surfaces ideal customer profiles and opportunities for new and/or enhanced revenue streams.
Strategy & Messaging Architecture
Strategy Architecture brings together the insights and research from the entire engagement, creating a prioritized strategy of the most impactful value-creation opportunities.
Messaging Architecture outlines the client's new category leadership positioning, and provides a foundation for the downstream go-to-market and product transformations.
Product Strategy & Roadmap Alignment
Product Strategy builds on the diagnostic, market ecosystem, & VOC research, and works in tandem with GTM optimization.
Value Creation Levers™, such as investment prioritization for specific products and revenue lines, are developed and analyzed against the client's Total Addressable Market (TAM).
GTM Optimization builds on the diagnostic, market ecosystem, & VOC research to develop the client's Ideal Customer Profile (ICP) and recommended Pricing & Packaging Architecture.
AI Risk Assessment™ (AIR)
The AI Risk Assessment™ integrates an AI-centric lens into BVA workstreams. It evaluates a company's preparedness for AI disruption, identifies how disruption will impact the company, aligns AI to existing product roadmaps, and recommends light product opportunities to leverage AI.
Deliverables
Immediately actionable recommendations.
Prescriptive, actionable outputs delivered throughout the program. Our definition of success includes alignment and buy-in, so that management teams are ready to put plans into action.
Product Prioritization Strategy
GTM Positioning & Messaging Strategy
Value Proposition Architecture
Pricing & Packaging Architecture
Business Opportunity Assessment
Market Ecosystem & Positioning Assessment
Value Creation Levers
Ideal Customer Profiles
Voice of Customer Insights
Full Voice of Customer Survey Results & Charts
Customer Interview Guide & Online Survey
Management Kickoff & Workshop
Bi-weekly Presentation Decks for Co-Creation & Collaboration
Optional Add-On: AI Risk Assessment™ (AIR)
Competitive Landscape: AI Maturity Teardown
Organizational Readiness: AI Maturity
Value Chain of Risk
Secular Trend Risk Highlights Analysis
Voice of Customer: Interview Synthesis
Risk Scoring Model
Final Deliverable
Learn More >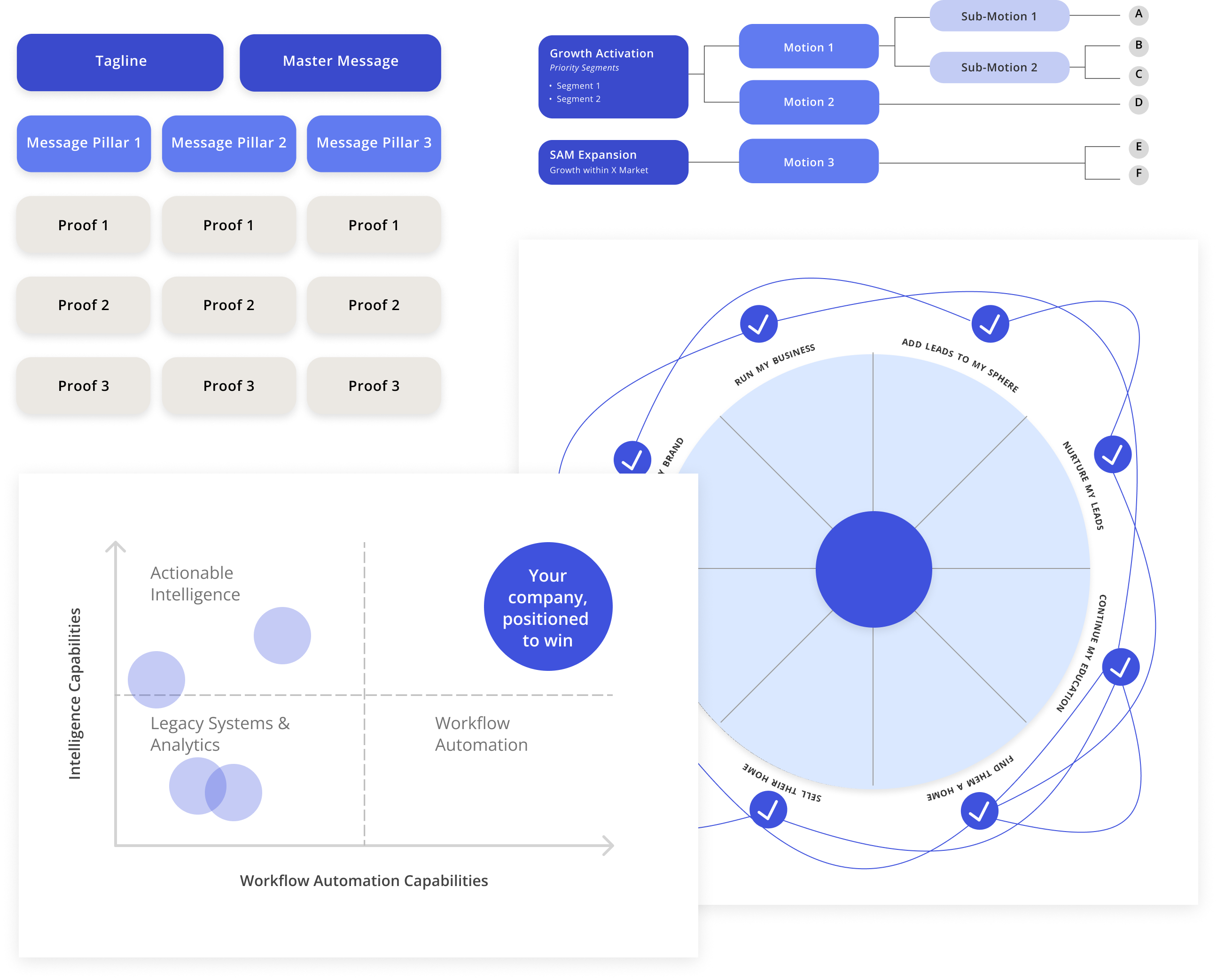 Outcomes
Check out our BVA case studies.
Contact Us.
Let's talk about the right value creation strategy for your business or portfolio company.