"We use the term 'orders of magnitude' when asked to describe the ROI of our Thinktiv strategy & go-to-market transformation engagements."
- Steve Flagg, CEO & Founder

BVA + Accelerator
Structuring valuable assets into a category-winning vision, with a monumental exit.
Overview
Supplyframe is a technology & media company serving various stakeholder segments within the global electronics supply chain.
Supplyframe partnered with Thinktiv to develop a focused commercial narrative that would increase their enterprise value, which ultimately paved the way for a successful acquisition by Siemens.
BUSINESS VALUE ARCHITECTURE
Thinktiv developed a multi-phase playbook designed to de-risk and align Supplyframe's digital initiatives with stakeholder demand.
PRODUCT ACCELERATION
Thinktiv performed a deep
re-architecture of the Supplyframe website. This aligned their GTM messaging with, and expanded upon, their new, unified narrative.
PROGRAM IMPACT
Thinktiv and Supplyframe co-created, then executed upon, a focused vision and commercial narrative. This paved the way for a $700M exit to Siemens one year later.

Business Value Architecture
Thinktiv completely transformed Supplyframe's market positioning.
Problems to Solve
Supplyframe had over a dozen different brands, all with valuable assets and untapped potential. They needed a single vision uniting all of these assets into a suite of industry-defining digital services.
How We Solved Them
Thinktiv conducted competitive and revenue quality analyses across Supplyframe's brands, focusing on messaging and functionality.
We then developed revenue prioritization frameworks for all the services, identifying key opportunities for digital service innovation.
Finally, Thinktiv packaged this all together into a positioning narrative with a messaging architecture focused on Supplyframe's solution differentiation.
Revenue Quality and Market Opportunities
Thinktiv analyzed Supplyframe's cost-to value of each revenue stream and future growth potential within their addressable markets, quickly highlighting where Supplyframe should focus.
Competitive Landscape Analysis and Positioning
Thinktiv mapped messaging and offering saturation across the design-to-source value chain in order to conceptualize Supplyframe's winning positioning. We then built frameworks and a messaging hierarchy to solidify it.
Voice of Customer Research: Stakeholder Challenges & Opportunity Pinpointing
Thinktiv interviewed over 20 high-level professionals across the electronics manufacturing value chain. Through these conversations, we unpacked challenges of disjointed data systems, clashing priorities across disciplines, and siloed decision-making.
This further honed and highlighted the immense opportunity to connect the dots with Supplyframe's Design-to-Source Intelligence.
Category Leadership Definition: Creating Design-to-Source Intelligence
Thinktiv provided frameworks for how Supplyframe's assets could come together to become a stronger whole than the sum of its parts. Visualizing the complete offering provided an instrumental anchor point for Supplyframe to materialize their new vision.

Product Value Acceleration
Building the full website narrative to engage key stakeholders.
Problems to Solve
Supplyframe now had a winning story and product direction. The next challenge was adapting their core go-to-market assets to reflect this unlocked power.
How We Solved Them
Thinktiv restructured Supplyframe's website, plus created content and assets to expertly tell Supplyframe's story.
The new website turned 16 disparate brands into one product suite with a unified vision.
Structural Site Information Architecture Definition
Thinktiv defined the foundational organization of the new website, from navigation structure, to page anatomy, to CTA language & outcomes.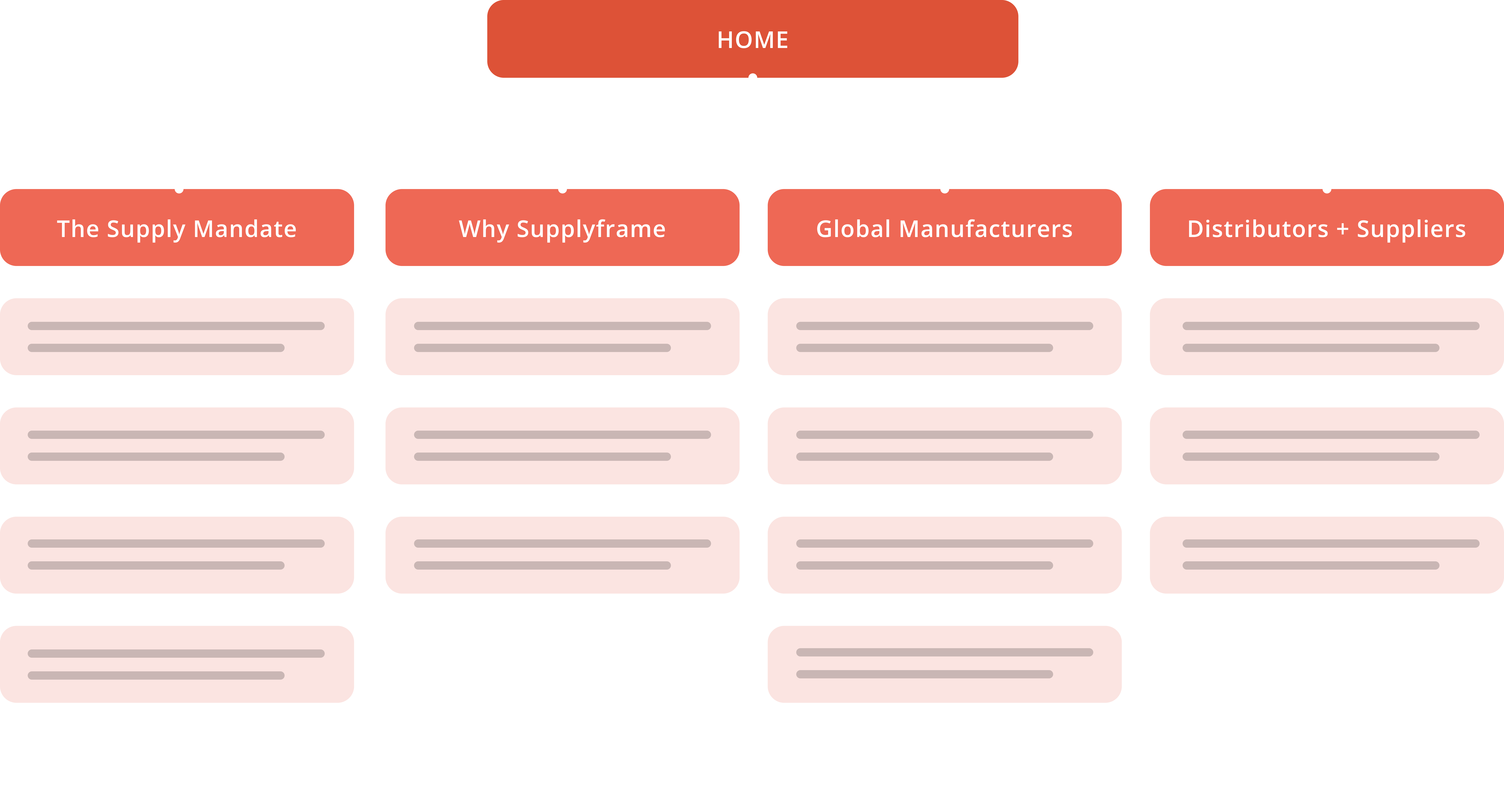 Detailed messaging elaboration and information design
Thinktiv then used this foundational architecture to build out key proof points and story elements, crafting a comprehensive design-to-source intelligence narrative for Supplyframe to showcase.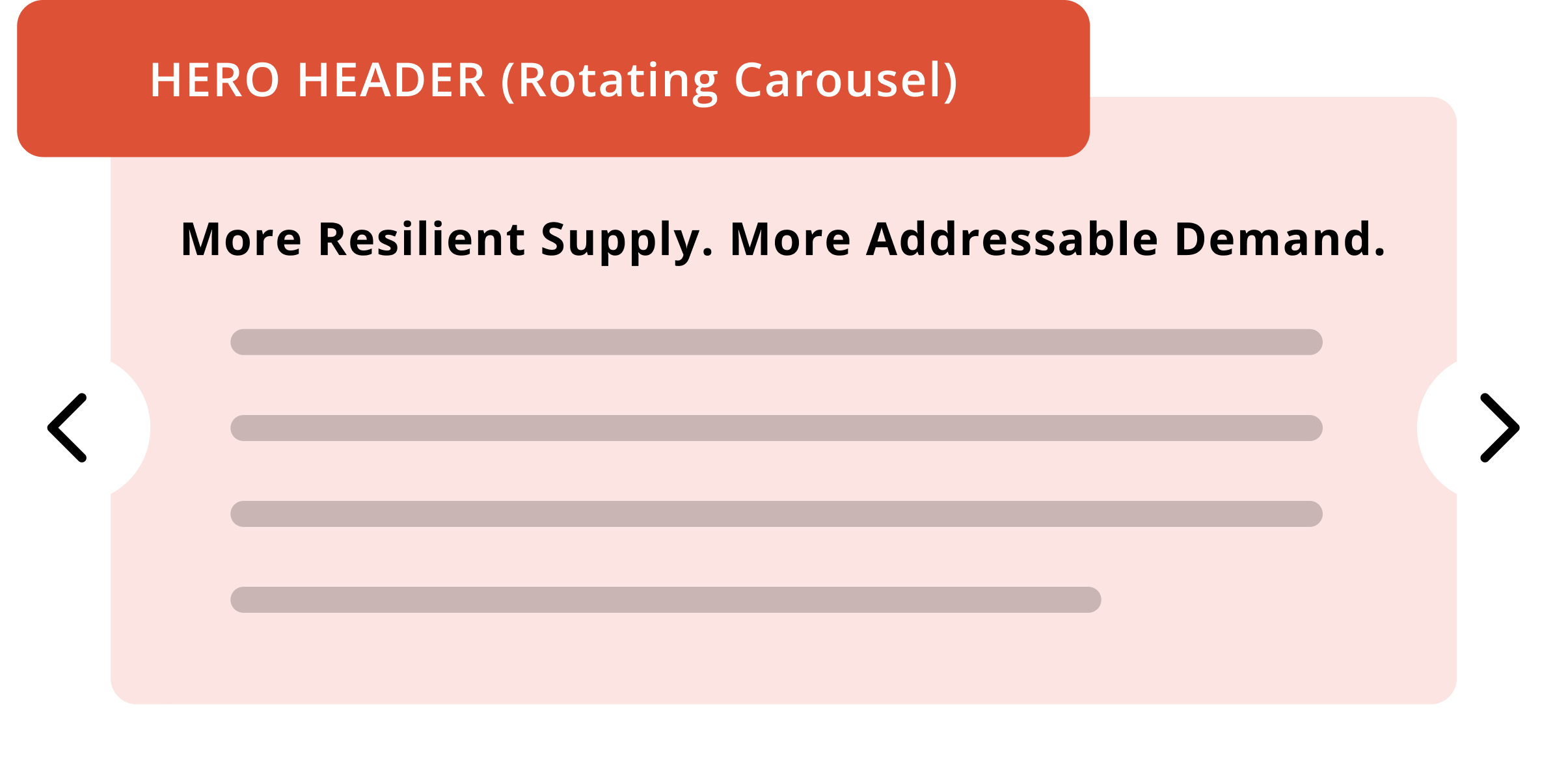 How we made an impact
One year exit at 10x multiple
The Details
One year after engaging Thinktiv, Supplyframe was acquired by Siemens for $700M, more than doubling their pre-Thinktiv multiple.
Contact Us.
Let's talk about the right value creation strategy for your business or portfolio company.